NEXT LEVEL GUITAR STRAP LOCKING • SNAP ACTION LOCKS • SUPER TOUGH • NO GUITAR MODS • GENUINE LEATHER ENDS • MADE IN THE U.S.A. AVAILABLE IN MANY COLORS AND PATTERNS Polypro, Cotton, Leather, and more.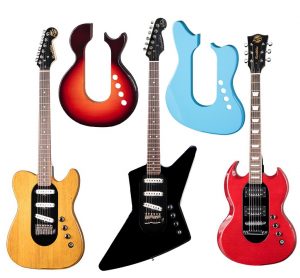 Our brand of electric guitars "Pons Guitars" has revolutionized the world of music with a great innovation: the possibility of having all the guitars you always dreamed of in just one. With us it is possible to play with the Les Paul from Slash (Guns'n'Roses), the Explorer of James Hetfield (Metallica), the SG of Angus Young (AC / DC) or the Telecaster of Keith Richards (Rolling Stones) for example, at a reasonable price changing the bodies in less than 20 seconds. At "Pons" you will find an expert guitarists range –Pons Stage- and a beginners range –Pons Studio-. In addition, for each range we have two differentiated models with different technical characteristics: the Jan model and the Pol model.
SMASHmouse started by solving a problem that all musicians know all too well. More than ever, musicians are using technology to learn, play, record and perform music. But we all have the same problem: if you use both hands to play the instrument, how do you control your technology? Certainly not very well, if at all, until now. Say hello to SMASHmouse. Now you can Kick It to Click It and keep on playing!