San Francisco Guitarworks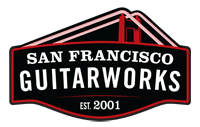 SF Guitarworks is the SF Bay Area's premier guitar service center.
We are first and foremost, a group of musicians with a passion for guitar craft. We are driven in the pursuit of the perfect instrument: flawless fretwork, dead-on intonation, awesome sound – something that inspires creativity and a desire to play.
We understand how frustrating it is to have an instrument that gets in the way of your musical expression. We strive to have your repair completed correctly the first time, on schedule, and within budget. All our work is covered under a lifetime warranty, and is backed by a 100% satisfaction guarantee – we're not happy until you're happy.
You can drop by the shop anytime, call ahead for an appointment, or even ship your guitar to us. We're happy to discuss your repair, share information, or teach you how to take care of your instrument. Let's make your music easier!